Hotel T
Owner Tine Van Canneyt created a boutique house with beautiful architecture, timeless design, good service and all possible facilities. Together with her team, she creates a relaxed atmosphere and an accessible setting. This makes local, national and international visitors feel right at home.
Hotel T - The T stands for Total Experience, Toasting, Time for Business and off course our wonderful Team!
Sustainability & Local Engagement
Tine and her team made as many sustainable choices as possible when developing Hotel T. They will continue to do so in the future. Here is a sample of some of the choices made to support this:
Biodegradable soap in reusable bottles
Solar panels
Electric charging stations in the parking garage
Regional products in the kitchen and in the interior (from the bed linen, carpets, ceramics to the delicacies on your plate and in your glass)
Collaboration with young entrepreneurs in the neighbourhood
Rental bikes for eco-friendly travel
Architecture
Behind the facades of the historic buildings, timeless interiors lurk. The mansion style changes to an airy look as you approach the heart of this beautiful boutique hotel. The courtyard garden with cosy terrace is an oasis of serenity in the city.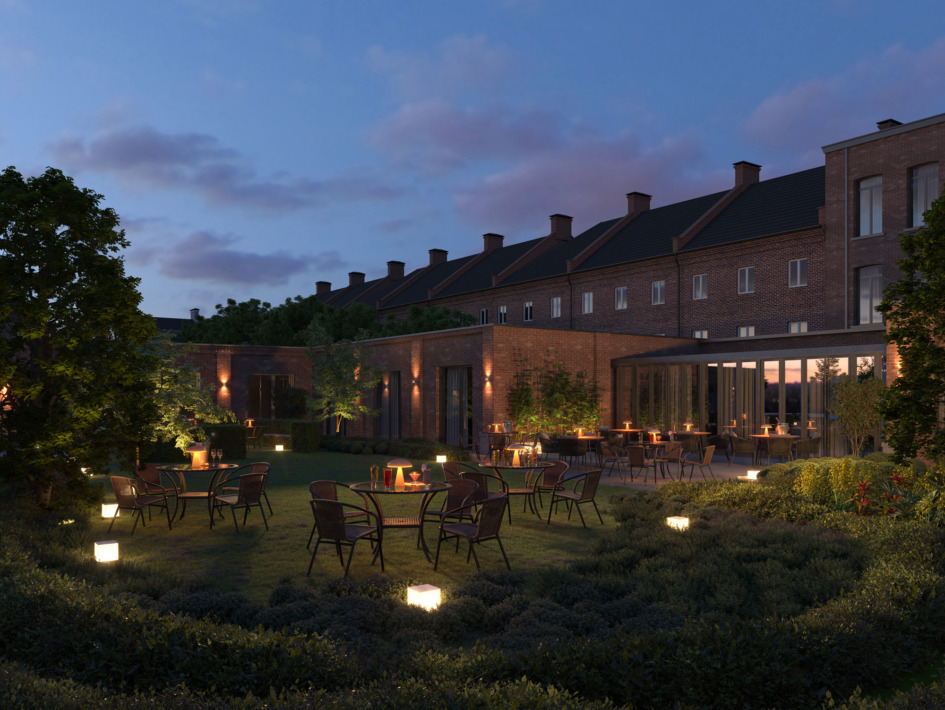 Everything to relax
Accommodation
Indoor swimming pool ( from October 2023)
Fitness
Infrared sauna ( from October 2023)
Massage studio
Petanque court
Enclosed city garden
Large terrace
2 special bars
Bicycle rental
Closed bicycle shed
Underground parking garage ( from October 2023)
13 charging stations for electric cars ( from October 2023)
Close to everywhere
Environment
Hotel T is located in the beating heart of Waregem. You can work out and swim in the hotel, but the area also has a lot to offer. You can play golf, tennis, padel, walking, cycling, jogging, visit the hippodrome and of course also shop nearby. Waregem borders the Flemish Ardennes and is located in the Leie region. Enough beautiful cities and places to spot.
50.892043391102526, 3.427406339082843
18
50.892043391102526, 3.427406339082843
/assets/svg/marker.svg
50.89225001115391, 3.4283365282135847
Kom je met de wagen en wil je graag bij ons parkeren? Geef dan het adres van onze parking in: Oude Vijvestraat 15, 8790 Waregem. Wil je zeker zijn van een plaats, geef ons dan een seintje.
/assets/svg/marker-parking.svg